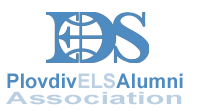 Sponsored Ads
Sponsored Ads
Alumni
All ELS Plovdiv alumni are automatically lifelong members of PELSA. You need to create your account on the ELS Plovdiv website (www.els-plovdiv.com) in order to register. This is not required but we highly recommend it because by registering with us you can share all benefits that we provide for our members.

To login and explore your benefits as a member, enter your username and password in the console on the right. Your username and password are the same as the ones for www.els-plovdiv.com. If you do not have an account, you can create one here, it takes less than a minute.
Search

Alumni Clubs
Find the nearest alumni club or start a new one.
People
Find classmates by name, class, or location.
Colleges
Find information about colleges and universities directly from fellow students who have studied there.
Companies
Find information about firms from classmates who work there.

All pages marked with are restricted to registered members only.